EXECAL / Association of Former Students and Friends of ECAL
The purpose of EXECAL, the Association of Former Students and Friends of ECAL, is not only to create and maintain links between students, alumni and friends of ECAL, but also to forge a genuine network in Switzerland and throughout the world.
Between 2007 and July 2019, Alumni (former graduate students) numbers have grown to more than 1,800, including 40 different nationalities. Since 2018, around 170 students have graduated from ECAL each year with a Bachelor's or Master's degree. Apart from Switzerland, the largest community of former students can be found in Paris. This is followed by London which has also attracted many ECAL alumni.
The map on the home page is designed to facilitate exchanges between alumni, track their movements and, in the long term, create a world network with regional branches. 

The Association also invites Friends, all persons or bodies interested in the activities of ECAL, to become members. The expansion of our Association to include this membership category offers us good growth potential. We are thinking, in particular, of those local companies with which our students have been paired for project work during their courses. Former ECAL non-graduate or exchange students are also very welcome to join.
EXECAL, a non-profit association, offers its members specific benefits outlined this PDF brochure.

Aims of the EXECAL Association
Promote the professional integration of our graduate students




Offer services, benefits and contacts




Keep contact with our alumni all over the world and encourage them to keep in contact with each other




Strengthen the links between the mother institution, its former students, current students and friends of ECAL




Include all our members in a community of like-minded people




Contribute to the growth and influence of ECAL




ECAL / University of Art and Design Lausanne
ECAL / Ecole cantonale d'art de Lausanne is regularly ranked as one of the top 10 Schools of Art and Design in the world. It is directed by Alexis Georgacopoulos, and offers six different undergraduate pathways (Fine Arts, Film Studies, Graphic Design, Industrial Design, Media & Interaction Design, Photography) and five at Master's degree level (Fine Arts, Cinema, Product Design, Photography, Type Design). ECAL also offers a one-year Foundation Course to prepare students to enter its different departments and two Master's, one in Advanced Studies in Design for Luxury & Craftsmanship and the other in Design Research for Digital Innovation (with EPFL + ECAL Lab).
Each academic year, ECAL attracts almost 600 students. The school's influence within Europe and worldwide is amply attested by the success of our former students, countless newspaper articles, regular citations in specialist and generalist literature and an enviable number of exhibitions in prestigious venues such as the Milan Furniture Fair (Milan), Centre Pompidou (Paris), Victoria & Albert Museum (London), swissnex, etc.
Over the years, ECAL has substantially increased its collaborative links with schools of art and design throughout the world and leading companies operating in a very wide variety of fields: Alessi, Baccarat, Camper, Galeries Lafayette, Hermès, Hublot, Nestlé, USM, Vitra, etc.
The ECAL network and a portfolio produced to the highest professional standards equip students, after graduation, to work for top-flight practices and companies or to take the plunge and create their own company.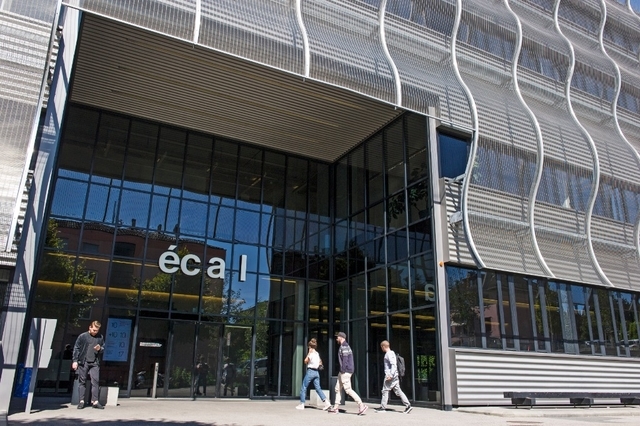 Photo : Vanessa Cardoso